So over the past few weeks I've been pretty tied up with life and have not had a lot of time for brewing.  This has not stopped my from trying new beers though.  This is a Maredsous 8, a Belgian Dubbel that gets much BA'er love with an A- rating (I know, BA ratings are garbage because there is no qualifying the people that rate them, it's still something). 
For me, the aroma on this really knocked me over.  This smelled like a fine Scotch or a brandy, not because of the alcohol, but just the profile, it really caused me to have a double take.  There were some chocolate notes in there too.  The color was cherry-wood, great for the style with a caramel colored head that left a few fingers of lacing.
This was also an overly carbonated beer.  I was surprised because usually the quark beers are like this, but not the capped ones.  This one broke the mold.  The good news is that the aggressive carbonation did not come off in the mouth feel too much, although after a few, your taste buds feel a little abused.
Over all this was a nutty sweet caramel dance on your pallet that leaves you wanting more.  This is not an overwhelming beer, but one that is better balanced than some in the style.  The flavor falls short of the intense aroma, but that's not a bad thing, it makes for a sensory thriller where you never know what is going to happen.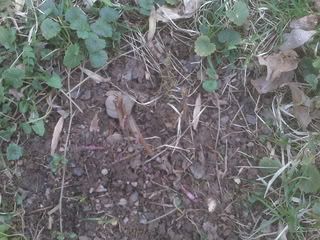 I know these pictures are not easy to see, but there are little purple shoots coming out of the ground.  Those are my hops!  I am pretty fired up this year to finally get a full growth cycle out of them.  I have to make a run to the garden center for some stuff and I am going to get some food for my babies as well. 
Cheers